Welcome message
Dear colleagues and friends,
thank you all for participating on our Coungress. Before obtaining the Certificate of Attendance, you will be requested to complete the online evaluation questionnaire. For questionnaire and CONGRESS CERTIFICATE please click: http://goo.gl/forms/UD9XUS842M0VsdJZ2
For 5th EPA Psychopathology Summer School Certificate click here: http://goo.gl/forms/M2p7bmImvSDRWiDy1
Poster's Winners:
Psychiatry:
1st Place: Brain-derived Neurotrophic Factor associates with gray matter volumes in Bipolar Disorder
Veronica Aggio, Sara Poletti, Cristina Colombo, Volker Arolt, Hemmo A. Drexhage, Francesco Benedetti
Scientific Institute and University Vita-Salute San Raffaele, Department of Clinical Neurosciences, Milan, Italy

2nd Place: Dreams in the psychotherapy of a traumatized refugee
Carla Schubert
University of Tampere, Department of Social Sciences and Humanities, Helsinki, Finland

3rd Place: Successful treatment of severe treatment-resistant Tourette Syndrome with Cannabis
David Trainor, Lois Evans, Rupert Bird
Tauranga Hospital, Department of Psychiatry, Liason Psychiatry, Tauranga Hospital, Cameron Road, Tauranga, North Island, New Zealand

Neurology
1st Place: The effect of prior antithrombotic therapy in acute stroke in patients with atrial fibrillation
Petra Črnac, Latica Friedrich, Hrvoje Budinčević, Ivan Bielen, Vida Demarin.
Sveti Duh University Hospital, Zagreb, Croatia
International Institute for Brain Health, Zagreb, Croatia

2nd Place: MYASTHENIA GRAVIS: some clinical data of 97 patients followed in last ten years at Tuzla Department of Neurology
Osman Sinanović, Nermina Pirić, Sanela Zukić, Lejla Redžić, Mirjana Vidović, Nihad Tinjić
Department of Neurology, University Clinical Center Tuzla, Medical Faculty, Tuzla, Bosnia and Herzegovina

3rd Place: Anosognosia after stroke: frequency and impact on degree of dependence in activity daily living
Mirjana Vidović, Osman Sinanović, Adnan Burina
Department of Neurology, University Clinical Center, Medical Faculty University of Tuzla, Tuzla, Bosnia and Herzegovina
Winners and mentors
/upload/2016/06/thumbs/20160618_093633_5769a5616da68_640xr.jpg

Vida Demarin
INPC SECRETARY GENERAL
D

ear Colleagues, Dear Friends,
"We are proud to present you with our new programme for the next "Mind & Brain" Congress which will be held from June 15th to 18th 2016. in beautiful city of Pula on the croatian seaside.
The programme is comprised of three main topic lines that all have to do with research and clinical work on mind and brain, which are as follows: Neuroinflammation, Neuropsychoanalysis and Neurorepair. Under each one of these are various up-to-date lectures and workshops of world's most prominent and distinguished lecturers and researchers in their own fields.
The main goal of the whole meeting is to combine different disciplines and their specific insights in brain and mind functioning so to be able to open a wide range discussion about future research possibilities between all disciplines presented. This is already achieved in the new and exciting field of Neuropsychoanalysis, and is encouraged between all other disciplines and groups that will participate in the meeting.
As one of the collaborators of the Congress is "Croatian Medical Journal" all participants of the Congress will be encouraged to present their work in the abstract section, and the best ones will be prompted to publish their valuable work in this journal.
Also, there will be various workshops throughout the Congress, and we would like to highlight one of the workshops, and that is "How to read and write a scientific paper" which is of special interest to young scinetist, and all others who are interested in publishing their Research, but still do no Know how. Together with that, there will be various physiotherapy courses that can and will help physiotherapists in their everyday work.
We sincerely hope that you can attend this exciting meeting and that we can cooperate in our future clinical work and research!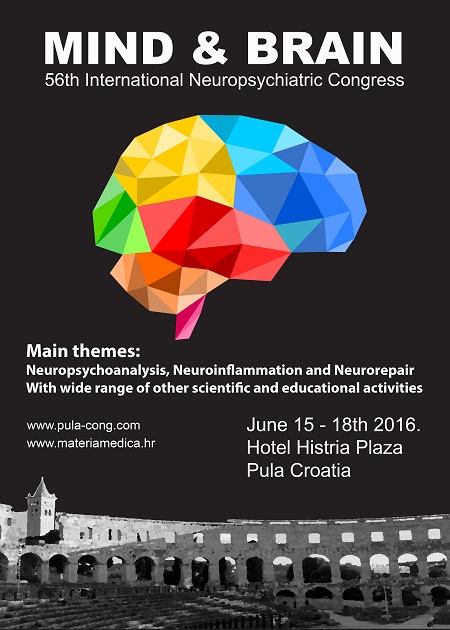 The rich itinerary of its three thousand year old history begins and ends with the Roman amphitheatre revealing itself in all its beauty. This is one of the best preserved Roman amphitheatres in the world! Besides the Amphitheatre, while strolling through Pula you will come across numerous monuments of Roman architecture: the Triumphal Arch of the Sergii, Hercules' Gate and Twin Gates, the Temple of Augustus and Small Roman Theatre...We hope you will take the advantage of many pleasures of Istria and Croatia.
On behalf of the INPC Kuratorium we wish you a warm welcome at the 56th INPC!
Yours sincerely,
Vida Demarin, MD, PhD, FAAN, FAHA, FESO, FEAN
INPC Secretary General
Professor of Neurology
Fellow of the Croatian Academy of Sciences and Arts
P.S. If you are interested in neuropsychoanalysis please please click here.
If you are anterested in history of our Congress please click here
---
---
Main themes
NEUROPSYCHOANALYSIS, NEUROINFLAMMATION AND NEUROREPAIR
With wide range of other scientific and educational activities.
---
Verudella, HR - 52100 Pula , Croatia
---
We look forward to welcoming you in Pula, Croatia! The Administrative Secretariat is pleased to assist you with further details.
---